I found out this summer that one of my best friends - one of the entire Hyperion community's best friends - has cancer. This is his story.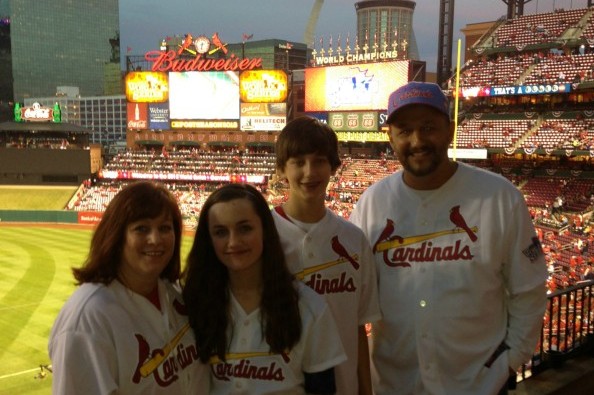 But first, a mea culpa:
Back in early 2008, I wrote a blog entry comparing Collaborate, Kaleidoscope, and OpenWorld. In this entry, I said that Collaborate was the obvious successor to the Hyperion Solutions conference and I wasn't terribly nice to Kaleidoscope. Here's me answering which of the three conferences I think the Hyperion community should attend (I dare you to hold in the laughter):
Now which one would I attend if I could only go to one?

Collaborate. Without reservation. If I'm going to a conference, it's primarily to learn. As such, content is key.

I actually got asked a very similar question on Network 54's Essbase discussion board just yesterday (apparently, it's a popular question these days). To parrot what I said there, OpenWorld was very, very marketing-oriented. 80% of the fewer than 100 presentations in the Hyperion track were delivered by Oracle (in some cases, with clients/partners as co-speakers). COLLABORATE is supposed to have 100-150 presentations with 100+ of those delivered by clients and partners.

In the interest of full-disclosure, my company, interRel, is paying to be a 4-star partner of COLLABORATE. Why? Because we're hoping that COLLABORATE becomes the successor to the Solutions conference. Solutions was a great opportunity to learn (partying was always secondary) and I refuse to believe it's dead with nothing to take it's mantle. We're investing a great deal of money with the assumption that something has to take the place of Hyperion Solutions conference, and it certainly isn't OpenWorld.

Is OpenWorld completely bad? Absolutely not. In addition to the great bribes, it's a much larger conference than COLLABORATE or ODTUG's Kaleidoscope, so if your thing is networking, by all means, go to OpenWorld. OpenWorld is the best place to get the official Oracle party line on upcoming releases and what not. OpenWorld is also the place to hear better keynotes (well, at least by More Famous People like Larry Ellison, himself). OpenWorld has better parties too. OpenWorld is also in San Francisco which is just a generally cooler town. In short, OpenWorld was very well organized, but since it's being put on by Oracle, it's about them getting out their message to their existing and prospective client base.

So why aren't I recommending Kaleidoscope (since I haven't been to that either)? Size, mostly. Their entire conference will have around 100 presentations, so their Hyperion track will most likely be fewer than 10 presentations. I've been to regional Hyperion User Group meetings that have more than that (well, the one interRel hosted in August of 2007 had 9, but close enough). While Kaleidoscope may one day grow their Hyperion track, it's going to be a long time until they equal the 100-150 presentations that COLLABORATE is supposed to have on Hyperion alone.

If you're only going to one Hyperion-oriented conference this year, register for COLLABORATE. If you've got money in the budget for two conferences, also go to OpenWorld. If you're a developer that finds both COLLABORATE and OpenWorld to be too much high-level fluff, then go to Kaleidoscope.
So, ya, that entry may live in infamy. [Editor's Note: Find out a way to delete prior blog posts without anyone noticing.] Notice that of the three conferences, I recommended Kaleidoscope last and dared to say that it would take them a long time until they had 100-150 sessions like Collaborate. Interestingly, Collaborate peaked that year at 84 Hyperion sessions, and Kaleidoscope is well over 150 Business Analytics sessions, but I'm getting ahead of myself.
In 2008, Mike Riley Luckily Wasn't An Idiot
I had never met Mike Riley, but he commented directly on my blog. He was gracious even though I was slamming his tiny little conference in New Orleans:
Hyperion users are blessed with many training opportunities. I agree with Edward, the primary reason for going to a conference is to learn, but I disagree that Collaborate is the best place to do that. ODTUG Kaleidoscope, Collaborate, and OpenWorld all have

unique offerings.





It's true that ODTUG is a smaller conference, however that is by choice. At every ODTUG conference, the majority of the content is by a user, not by Oracle or even another vendor. And even though Collaborate might seem like the better buy because of its scale, for developers and true technologists ODTUG offers a much more targeted and efficient conference experience. Relevant tracks in your experience level are typically consecutive, rather than side-by-side so you don't miss sessions you want to attend. The networking is also one of the most valuable pieces. The people that come to ODTUG are the doers, so everyone you meet will be a valuable contact in the future.





It's true, COLLABORATE will have many presentations with a number of those delivered by clients and partners, but what difference does that make? You can't attend all of them. ODTUG's Kaleidoscope will have 17 Hyperion sessions that are all technical.





In the interest of full disclosure, I have been a member of ODTUG for eight years and this is my second year as a board member. What attracted me to ODTUG from the start was the quality of the content delivered, and the networking opportunities. This remains true today.





I won't censor or disparage any of the other conferences. We are lucky to have so many choices available to us. My personal choice and my highest recommendation goes to Kaleidoscope for all the reasons I mentioned above (and I have attended all three of the above mentioned conferences).





One last thing; New Orleans holds its own against San Francisco or Denver. All of the cities are wonderful, but when it comes to food, fun, and great entertainment there's nothing like the Big Easy.
Mike was only in his second year as a board member of ODTUG, but he was willing to put himself out there, so I wrote him an e-mail back. In that e-mail, dated February 10, 2008, I said that for Kaleidoscope to become a conference that Hyperion users would love, it would require a few key components: keynote(s) by headliner(s), panels of experts, high-quality presentations, a narrow focus that wasn't all things to all people, and a critical mass of attendees.
At the end of the e-mail, I said "
If Kaleidoscope becomes that, I'll shout it from the rooftops. I want to help Kaleidoscope be successful, and I'm willing to invest the time and effort to help out. Regarding your question below, I would be more than happy to work with Mark [Rittman] and Kent [Graziano] to come up with a workable concept and I think I'm safe in saying that Tim [Tow] would be happy to contribute as well. For that matter, if you're looking for two people to head up your Hyperion track (and enact some of the suggestions above), Tim and I would be willing (again, I'm speaking on Tim's behalf, but he's one of the most helpful people on planet Hyperion)."
K(aleido)scope
Kaleidoscope 2008 ended up being the best Hyperion conference I ever attended (at the time). It was a mix of Hyperion Solutions, Arbor Dimensions, and Hyperion Top Gun. With only 4 months prep time, we had 175 attendees in what then was only an Essbase track. Though it was only one conference room there in New Orleans, the attendees sat in their seats for most of a week and learned more than many of us had learned in years.
After the conference, Mike and the ODTUG board offered Tim Tow a spot on the ODTUG board (a spot to which he was later elected by the community) to represent the interests of Hyperion. I founded the ODTUG Hyperion SIG along with several attendees from that Kaleidoscope 2008. I eventually became Hyperion Content Chair for Kaleidoscope and passed my Hyperion SIG presidency on to the awesome Gary Crisci. In 2010, Mike talked me into being Conference Chair for Kaleidoscope (which I promptly renamed Kscope since I never could handle how "kaleidoscope" violated the whole "i before e" rule). Or maybe I talked him into it. Either way, I was Conference Chair for Kscope11 and Kscope12.
During those years, Mike worked closely with the Kscope conference committee in his role as President of ODTUG. Mike rather good-naturedly ("good-natured" is, I expect, the most commonly used phrase to describe Mike) put up with whatever crazy thing I wanted him to do. In 2011, he was featured during the general session in several reality show parodies (including his final, climactic race with John King to see who got to pick the location for Kscope12). I decided to up the ante in 2012 by making the entire general session about him in a "Mike Riley, This Is Your Life" hour and we found ourselves laughing not at Mike, but near him. It included Mike having to dance with the Village Persons (a Village People tribute band) and concluded with Mike stepping down as President of ODTUG...
... to focus his ODTUG time on being the new Conference Chair for Kscope. Kscope13 returned to New Orleans and Mike did a fabulous job with what I consider to be Hyperion's 5 year anniversary with Kscope. Mike was preparing Kscope14 when I got a phone call from him. I expected him to talk over Kscope, ODTUG, or just to say hi, but I'll never forget when Mike told me he had stage 3 rectal cancer. My father died in 2002 of colorectal cancer, and the thought that one of my best friends was going to face this was terrifying... and I wasn't the one with cancer.
I feel that the Hyperion community was saved by Mike (what would have happened if we had all just given up after Collaborate 2008 was a major letdown?) and now it's time for us to do our part. Whether you've attended Kscope in the past or just been envious of those of us who have, you know that it's the one place per year that you can meet and learn from some of the greatest minds in the industry.
Kscope is now the best conference for Oracle Business Analytics (EPM and BI) in the world, and Mike, I'm shouting it from every rooftop I can find (although I wish when I climbed up there people would stop yelling "Jump! You have nothing else to live for!"). I tell everyone I know how much I love Kscope, and on behalf of all the help you've given the Hyperion community over the last 5 years, Mike, it's now time for us to help you.
After many weeks of chemo, Mike goes into surgery tomorrow to hopefully have the tumor removed. Then he has many more weeks of chemo after that. He's a fighter, but getting rid of cancer is expensive, so we've set up a Go Fund Me campaign to help offset his medical bills. If you love Kscope, there is no one on Earth more responsible for its current state than Mike Riley. If you love ODTUG, no one has more fundamentally changed the organization in the last millennium than Mike Riley. If you love Hyperion, no one has done more to save the community than Mike Riley.
And if after reading this entry, you love Mike for all he's done, go to
http://bit.ly/HelpMike and donate generously, because we want Mike to be there at the opening of Kscope14 in Seattle on June 22. Please share this entry, and even if you can't donate, send Mike an e-mail at mriley@odtug.com letting him know you appreciate everything he's done.